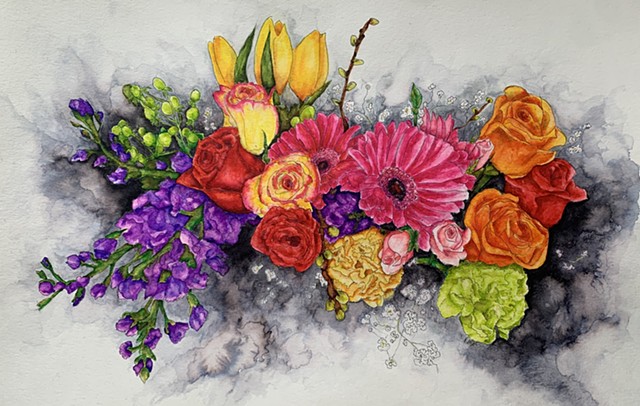 Pay It No Mind: A bouquet for Marsha P. Johnson and Desert Voices
watercolor and ink on paper
12"x18"
2023
This painting is about healing both in its creation and in centering on the life of Marsha P. Johnson. She was a leader in the fight for queer liberation and has been credited with throwing the first brick at the Stonewall Riot. She lived her life fighting for equal rights and for the healing that the LBGTQ+ community needed then and still needs now.
As many of our queer siblings, Johnson suffered from mental health issues that so often come with oppression and homelessness. She also passed away as many of our trans sisters of color have, "under suspicious circumstances." Her death was at first thought to be a suicide but is now seen as a homicide.
Despite the obstacles she faced, she lived her life openly and proudly. She was known all over New York for her activism and for her performance - and always with flowers in her hair.
This bouquet is based on those flowers, and on how multifaceted and beautiful the LBGTQ+ community is even in the face of continued oppression. It seems a fitting image to represent Tucson's Desert Voices chorus both as a group of singers and a space that is al about healing and beauty not matter what the rest of the world thinks or does.
For information about bidding on the original painting or to buy a print, please email via the contact page.